【黄金周闪促】 — Hilton希尔顿欧洲、中东和非洲酒店会员最低七折优惠(10/7前预订)
希尔顿这个十一黄金周也推出了闪促,会员入住最低可享七折优惠,具体详情如下:
预订时间即日起至2019年10月7日

入住时间仅限2019年10月3日至2020年3月1日之间的周末

闪促只适用于欧洲、中东和非洲参与活动酒店
周末指五六日,但中东和非洲(土耳其、黎巴嫩、摩洛哥除外)指四五六,须至少提前一天预订,全额预付房款,不可退款或更改。
随意找了几家欧洲酒店房价:
巴黎克里希汉普顿非周末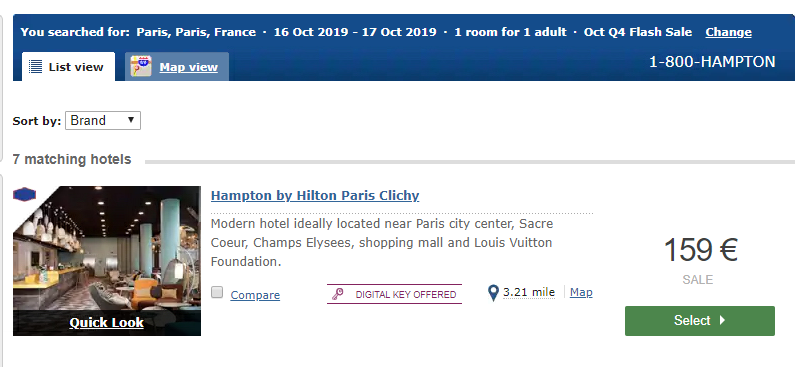 巴黎克里希汉普顿周末
*以上价格不含税费,可以看出折扣力度还是不小。
伦敦
阿姆斯特丹
希尔顿其他活动供大家结合参考:
Terms and Conditions:
Europe, Middle East and Africa Sale Terms and Conditions
Offer is subject to availability at participating hotels within the Hilton portfolio of brands in Europe, Middle East & Africa. Offer available for weekend stays booked between October 1st, 2019 and October 7th, 2019. Stays to be completed on weekends between October 3rd, 2019 and March 1st, 2020.For purposes of this offer, "weekend" is defined as Friday, Saturday and/or Sunday nights and in Middle East (excluding Turkey, Lebanon, Morocco, Africa) as Thursday, Friday and/or Saturday nights. Must book a minimum of 1 day before arrival.

Full prepayment is required at time of booking. Your credit card will be charged immediately for the total amount quoted for the entire stay as reserved. Rates are not refundable; in case your contract with Hilton is governed by German law a refund of 10%, of the paid rates applies upon cancellation. In such case you may however prove that no or a significantly lower damage has been incurred for Hilton.

Charges cannot be applied to other stays, services or merchandise. Bookings cannot be changed. If you fail to arrive at the hotel on the scheduled arrival date, your reservation will be cancelled and you will not receive any refund or credit. Rates featured in advertising are the lowest rates available for destinations, not at specific properties.

Blackout dates may apply and vary by hotel. Offer is subject to offer details herein and the individual hotel's booking terms and conditions. Prices shown are per room per night based on two adults sharing. Unless otherwise stated, rates include taxes but exclude gratuities and incidental charges. Offer is not combinable with other promotions, packages, negotiated/qualified rate plans or bonus offers and is not valid for group bookings. The Hilton Minibreaks offer of a 2nd room for children for half price is not combinable with this promotion.

Participating Waldorf Astoria™ Hotels & Resorts, Conrad® Hotels & Resorts, LXR, DoubleTree by Hilton™, Hilton Hotels & Resorts®, Curio, a collection by Hilton, Hilton Garden Inn™ and Canopy by Hilton hotels™ are offering up to 25% discount off the Best Available Rate and the Best Available Bed and Breakfast Rates for weekend stays. Participating Hampton by Hilton™ properties are offering a 10% discount off the Best Available Rate for weekend stays. Some participating hotels may offer availability on midweek arrival dates during the promotional period. Some hotels may offer discount on premium room categories only (i.e. Executive or Deluxe rooms) and rates advertised may be for premium room categories. Some participating hotels may offer a discount off the Best Available Dinner, Bed and Breakfast Rate (or half board rate).The actual discount rate relates to the hotel's Best Available (Flexible) Rate ("BAR"), which is a specific rate type that varies depending on time of purchase, is unrestricted, non-qualified and excludes discount rates.

The Hilton Honors member sale rates are an additional 5% off of the Best Available Rate and the Best Available Bed and Breakfast Rate (indicated above) for stays i.e. up to 30% off for participating hotels as outlined above. To qualify you must be a registered member of Hilton Honors™ at the time of booking and the booking must be made through Hilton direct channels: Hilton.com or Honors.com, or the Hilton Reservation call center (HRCC). Enroll at Honors.com before booking.

Any currency conversions displayed on advertising are for comparison only. Reservations will be booked in the local hotel currency displayed. Currency rates utilised in each conversion rely upon several different public sources from other parties without independent investigation or verification and should be used only as examples. Hilton does not, and cannot, verify the accuracy of any rate conversion examples. Rates booked will be the Best Available Rates at the time of booking with the discount applied. Once the promotional period has ended Best Available Rates may fluctuate and in the instance that a lower rate is available after the sale period, the booked rate remains non-refundable.

Hilton Honors™ membership, earning of Points & Miles™ and redemption of points are subject to Honors Terms and Conditions.Guaranteed Discount or lowest price offering is valid for Hilton Honors members only.
~~~~~~~~~~~~~~~~~~~~~~~~~~~~~~~~~~~~~~~~~~~~~~~~~~~
延伸阅读:近期Accor雅高相关活动
延伸阅读:近期Marriott万豪相关活动
延伸阅读:近期IHG洲际相关活动
延伸阅读:近期买分相关活动
延伸阅读:近期Hilton希尔顿相关活动
延伸阅读:近期Asia Miles亚万相关活动
延伸阅读:近期入住体验
扫码进入里程家微信公众号
欢迎广大读者关注我们的
公众号:Travelideas里程家
微博:里程家
分享我们的文章到你们的朋友圈或者微信/QQ群/微博,让更多的朋友可以得到优惠资讯