入住IHG洲际澳大利亚,新西兰,瓦努阿图,巴布亚新几内亚和斐济酒店可享7折,优惠还可享受免费早餐!(8/5前预定)
活动内容:
入住澳大利亚,新西兰,瓦努阿图,巴布亚新几内亚和斐济酒店可享7折优惠,还可享受免费早餐!
预定时间:
2019年8月5日前
入住时间:
2019年9月30日前
至少提早三天订房
预付全额房费
热点酒店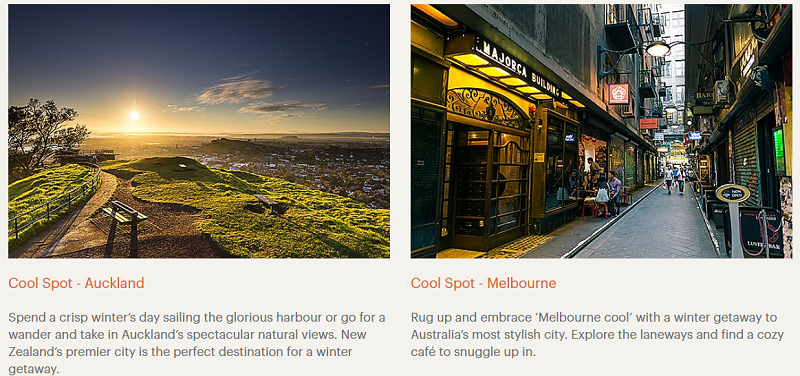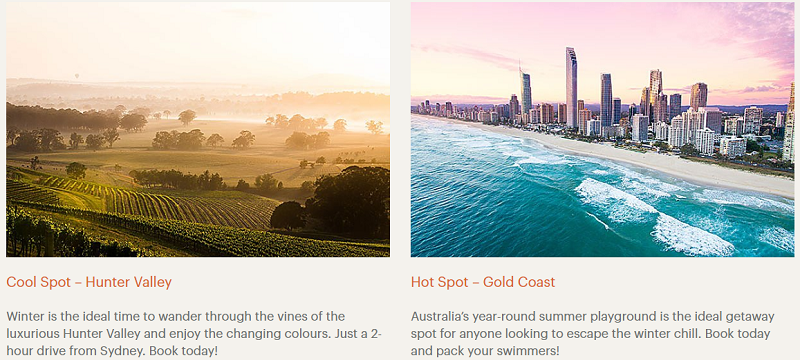 澳大利亚
Australian Capital Territory
Crowne Plaza Canberra
New South Wales
InterContinental Sydney
InterContinental Sydney Double Bay
Crowne Plaza Coogee Beach
Crowne Plaza Hawkesbury Valley
Holiday Inn Old Sydney
Holiday Inn Potts Point
Holiday Inn Sydney Airport
Holiday Inn Darling Harbour
Holiday Inn Warick Farm
Holiday Inn St Mary's
Holiday Inn Parramatta
Holiday Inn Express Macquarie Park
Holiday Inn Express Newcastle
Crowne Plaza Terrigal
Crowne Plaza Hunter Valley
voco kirkton Park Hunter Valley
Northern Territory
Crowne Plaza Alice Springs
Queensland
InterContinental Hayman Island Resort
InterContinental Sanctuary Cove
Crowne Plaza Surfers Paradise
voco Gold Coast
Holiday Inn Express Brisbane
Holiday Inn Cairns
South Australia
InterContinental Adelaide
Holiday Inn Express Adelaide
Victoria
InterContinental Melbourne The Rialto
Crowne Plaza Melbourne
Holiday Inn on Flinders
Holiday Inn Melbourne Airport
Western Australia
InterContinental Perth
Crowne Plaza Perth
Holiday Inn City Centre Perth
Explore IHG Hotels & Resorts 
in New Zealand
Auckland
Crowne Plaza Auckland
Holiday Inn Auckland Airport
Christchurch
Crowne Plaza Christchurch
Rotorua
Holiday Inn Rotorua
Wellington
InterContinental Wellington
Queenstown
Crowne Plaza Queenstown
新西兰
Auckland
Crowne Plaza Auckland
Holiday Inn Auckland Airport
Christchurch
Crowne Plaza Christchurch
Rotorua
Holiday Inn Rotorua
Wellington
InterContinental Wellington
Queenstown
Crowne Plaza Queenstown
Holiday Inn Queenstown Frankton Road
瓦努阿图,巴布亚新几内亚
Papua New Guinea
Holiday Inn Port Moresby
Holiday Inn Express Port Moresby
Vanuatu
Holiday Inn Resort Vanuatu
斐济
InterContinental Fiji
Holiday Inn Suva
Terms and Conditions
Rates are per room, per night and are subject to availability.
Offer includes buffet breakfast for up to two guests occupying the same room and up to 30% off room rates when booked between 13 May 2019 and 5 August 2019.
You must be an IHG® Rewards Club member to be eligible for the full discount.
Must book at least 3 days in advance (conditions vary per property).
All Advance Purchased reservations are final and require full payment for the entire stay at time of booking.
Tax and service charges may apply.
Final bill will be presented in local currency.
Full prepayment is required at time of booking, cannot be amended and is non-refundable.
Credit card surcharges apply.
Blackout dates apply.
Rates only applicable at participating hotels and resorts in Australia, New Zealand, Vanuatu, Papua New Guinea and Fiji for stays until 30 September 2019.
Please check with the hotel directly should you require further clarification.
Offer is not valid to groups of 10 or more rooms and cannot be combined with any other special offer, including but not limited to InterContinental Ambassador's complimentary weekend night certificate.
At Holiday Inn, kids 12 years and under stay for free sharing parent's guest room in existing bedding.
At Holiday Inn, kids 12 years and under eat free from the all-day dining restaurant with an accompanying paying adult guest.
Rates qualify for IHG® Rewards Club Points. Standard IHG® Rewards Club programme terms and conditions apply. 
延伸阅读:近期Accor雅高相关活动
延伸阅读:近期Marriott万豪相关活动
延伸阅读:近期IHG洲际相关活动
延伸阅读:近期买分相关活动
延伸阅读:近期Hilton希尔顿相关活动
延伸阅读:近期Asia Miles亚万相关活动
延伸阅读:近期入住体验
扫码进入里程家微信公众号
欢迎广大读者关注我们的
公众号:Travelideas里程家
微博:里程家
分享我们的文章到你们的朋友圈或者微信/QQ群/微博,让更多的朋友可以得到优惠资讯!